Carisolv
Supporting minimally invasive dentistry, reducing the need for AGPs
Dental caries removal using drilling is frequently associated with pain (Berggren and Meynert, 1984) and may also involve the removal of sound tooth tissue adjacent to the caries-affected area (Fusayama, 1988). Therefore, chemo-mechanical caries removal has been tested and used as an alternative to drilling since 1975 (Habib et al., 1975). The intended mechanism is to provide less invasive caries treatment by applying a solution to the outer infected, destroyed and non-remineralisable carious dentine in order to soften this layer, thereby making it easier to remove using hand instruments (Fusayama, 1979; Yip et al., 1995). Previously available products were plagued with certain clinical limitations, such as low efficacy in terms of caries removal or overly complicated methods of application. Carisolv™ was developed to address some of these issues. The mechanism of action is based on sodium hypochlorite. Carisolv contains three naturally occurring amino acids – glutamic acid, leucin and lysine. When chlorinated, the three differently charged amino acids in Carisolv interact with different protein chains in the denatured collagen and thereby enhance the effect on carious dentine. The amino acids also neutralise the aggressive effect of the sodium hypochlorite on sound oral tissues.
Whilst Carisolv has been around for many years, it has not been widely used. One of the main reasons is that it is often considered quicker and easier to just "drill and fill". However, the benefits of minimally invasive approaches in dentistry are becoming more widely accepted and the unfortunate situation of the Covid-19 pandemic has highlighted that traditional "drill and fill" methods, may not be as "quick and easy" to deliver given the current guidelines surrounding aerosol generating procedures (AGPs) especially when considering PPE and fallow period requirements. In Appendix 5 of the "Standard operating procedure – Transition to recovery" document, produced by the Office of the Chief Dental Officer England, the section titled "AMIRD - Minimally invasive restorations, risk-mitigated AGP principles" specifically refers to using "hand excavators, low-speed high-torque electric micromotor rotary steel/plastic rose-head burs, chemo-mechanical gels" to remove carious dentine. Therefore, the timing is right to re-introduce this unique product that will be a useful tool in the armamentarium of any surgery as we navigate the "new normal" in dentistry.
Key benefits
Minimally invasive
Reduces the need for AGPs (dependent on lesion location)
Causes less pain compared to conventional drilling techniques
Reduces the need for local anaesthesia
Enables better dentine bonding (as shown below)
Bond strength achieved with different caries removal techniques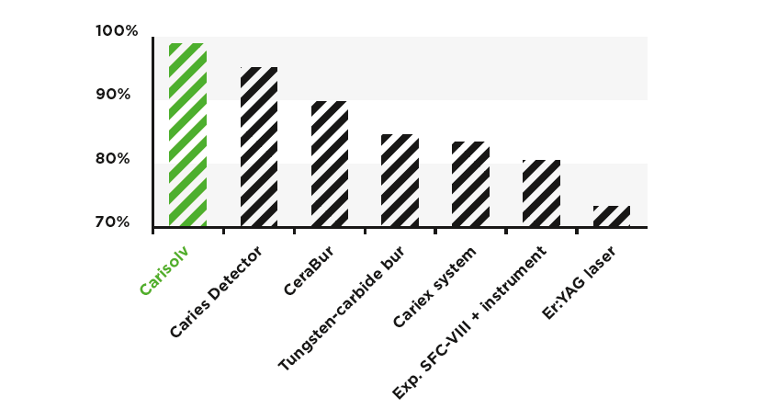 Neves A, et al, Microtensile bond strength and interfacial characterization of an adhesive bonded to dentin prepared by contemporary caries-excavation techniques DENTAL MATERIALS 27 (2011) 552-562.
Indications
Carious lesions in dentine
Open lesions e.g. root surfaces
Deep lesions close to pulp
Lesions with difficult access e.g. crown margins
Cleaning cavities: smear layer removal/open tubules
Further reading
Carisolv technical sheet. Read now
Caries removal without AGPs. Read now
How to use Carisolv. Read now
Carisolv is coming soon, and is exclusive to DD
References
Berggren U, Meynert G: Dental fear and avoidance: Causes, symptoms, and consequences. J Am Dent Assoc 1984;109:247–251.

Fusayama T: Two layers of carious dentine: Diagnosis and treatment. Oper Dent 1979;4:63–70.

Fusayama T: Clinical guide for removing caries using a caries-detecting solution. Quintessence Int 1988;19:397–401.

Habib CM, Kronman JH, Goldman M: A chemical evaluation of collagen and hydroxyproline after treatment with GK-101 (N-Chloroglycine). Pharmacol Ther Dent 1975;2:209–215.

Yip HK, Stevenson AG, Beeley JA: An improved reagent for chemomechanical caries removal: An in vitro study. J Dent 1995;23:197–204.

Neves, Coutinho, De Munck, Van Meerbeek. Caries-removal effectiveness and minimal-invasiveness potential of caries-excavation techniques: a micro-CT investigation. J Dentistry 2011;39:154-162.

Fure, Lingström. Evaluation of the chemomechanical removal of dentine caries in vivo with a new modified Carisolv gel. Clin Oral Investig 2004;8:139-144.

Fure, Lingström, Birkhed. Evaluation of Carisolv for the chemo–mechanical removal of primary root caries in vivo. Caries Res 2000;34:275-280.

Yamada, Hossain, Shimizu, Kimura, Masuda, Nakamura, Matsumoto. Analysis of surface roughness and microleakage of fissure sealants following organic debris removal with Carisolv. J Dent 2008;36:130-137.

Pai, Nadig, Jagadeesh, Usha, Karthik, Sridhara. Chemical analysis of dentin surfaces after Carisolv treatment. J Conserv Dent 2002;12:118-122.

Neves, Coutinho, Cardoso, De Munck, Van Meerbeek. Micro-tensile bond strength and interfacial characterization of an adhesive bonded to dentin prepared by contemporary caries-excavation techniques. Dent Mater 2011;27:552-562.

Bohari, Chunawalla, Ahmed. Clinical evaluation of caries removal in primary teeth using conventional, chemomechanical and laser technique: an in vivo study. J Contemp Dent Pract 2012;13:40-47.

Peric, Markovic, Petrovic. Clinical evaluation of a chemomechanical method for caries removal in children and adolescents. Acta Odontol Scand 2009;67:277-283.