One of the challenges of the dental manufacturer over the last twenty or so years, has been to make dental procedures simpler, with fewer steps and therefore less technique sensitive.
Multistep systems can take time to apply, resulting in longer procedures meaning that potentially fewer patients can be seen in a day. Multistep systems also usually mean the application of multiple components or bottles. A good example of this is bonding agents. The turn of the century saw bonding agents that were quite often comprised of a separate etch, separate primer and separate adhesive. These were applied separately before the incremental build-up of the final composite restoration.
Multiple bottle systems also have an environmental impact. It often requires three times as much plastic to manufacture a three-bottle system than it does to manufacture a one bottle system. So therefore, we have three times as much plastic to dispose of. Several types of adhesives are often required in a dental surgery. Typically, an adhesive is required for sticking composite to teeth, another is required to ensure a composite cement adheres to glass ceramic restorations and a third is often required to bond a composite cement to a metal ion based indirect restoration such as Zirconia, Alumina and of course our porcelain fused to metal work.
Silane coupling agents are our go to solution for priming the surface of glass ceramics, and 10-MDP has proved very successful over the years as a primer for metal based indirect work. Since 2011, Scotchbond Universal has been the only one bottle adhesive to incorporate a bonding agent for enamel and dentine, as well as a silane and 10-MDP for use when priming indirect restorations. The arrival of this first truly universal adhesive meant that a dental practice no longer had to stock several bottles for doing several jobs. This one innovative adhesive could be used for many restorative tasks.
As well as being a tried and tested adhesive, it was also shown to be a suitable glaze for glass ionomer restorations and a desensitising agent for patients who had areas of sensitivity. Scotchbond Universal was the first true universal adhesive which won several design awards including the Red Dot design award for innovation. It also claimed to be the most studied universal adhesive with over 400 peer review studies to its name.
After consultation with numerous clinicians and opinion leaders globally, Scotchbond Universal was improved to address more recent challenges faced with today's dentistry and Scotchbond Universal Plus Adhesive was born. Most dental adhesives are not radiopaque which can often cause an issue if the adhesive is not suitably air thinned under a restoration. Follow up radiographs showing radiolucency under the restoration are usually difficult to interpret. Is the radiolucency due to secondary decay, or excess adhesive? The only true way to prevent this situation from occurring is to use a radiopaque adhesive. The addition of a radiopaque resin has made the new Scotchbond Universal Plus the world's first radiopaque universal adhesive on the market.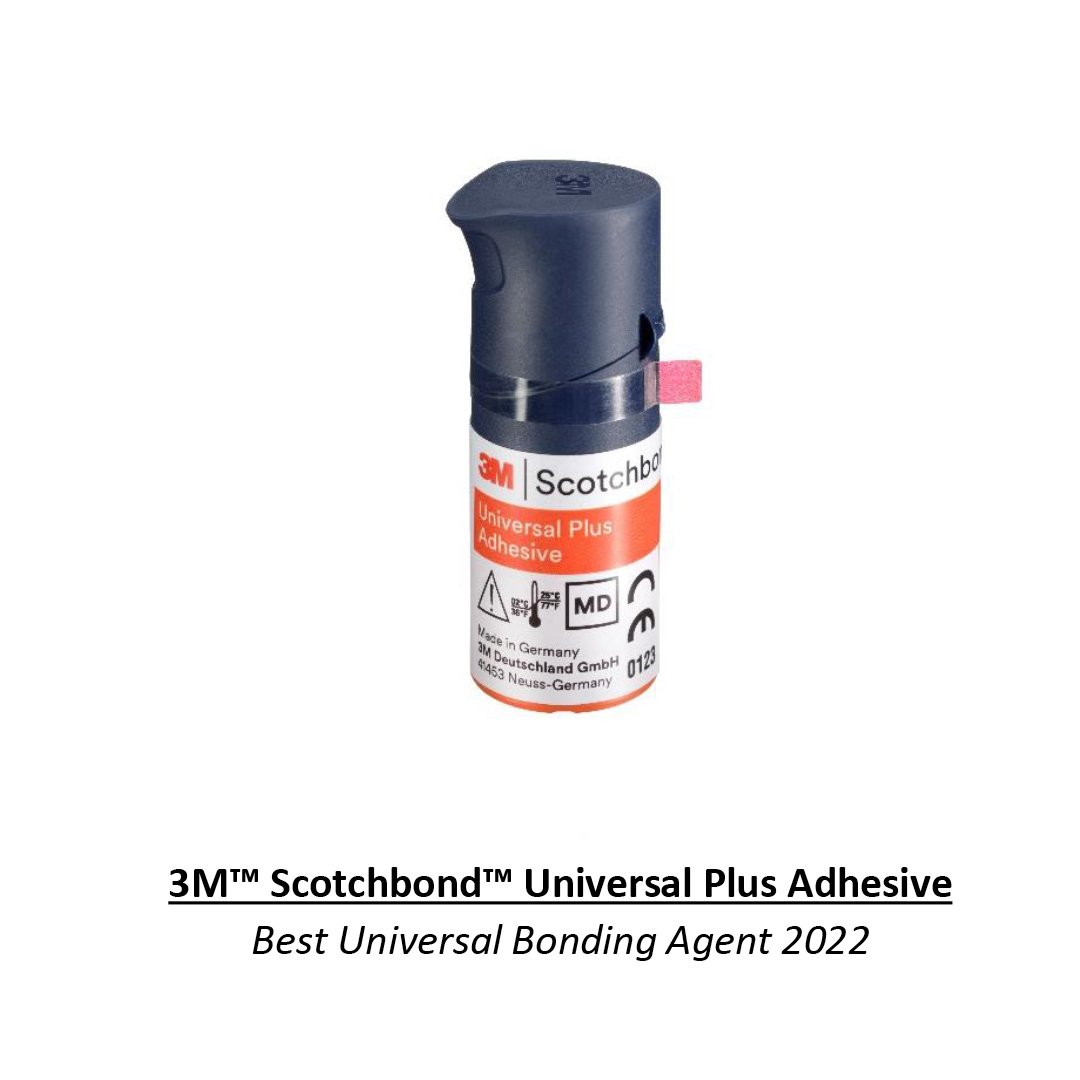 In addition to its radiopacity, Scotchbond Universal Plus Adhesive is also BPA free and BPA derivative free. It contains no molecules that were formed from BPA or that could break down to produce BPA. It is also proven to bond well to caries affected dentine and includes an improved silane coupling agent to provide even stronger bonds to glass ceramics.
The original Scotchbond Universal was launched with its sister product, RelyX Ultimate. This made it the first two bottle, universal cementation system for cementing any restoration type to teeth. The simplicity of applying the Scotchbond Universal to the tooth and the restoration with RelyX Ultimate in the middle reduces time, technique sensitivity and stress. Scotchbond Universal can also be left uncured (as the RelyX Ultimate had the ability to cure it) and an optional separate etching step (to gain even higher bond strength) could be incorporated, this totally universal system is loved by many.
So as Scotchbond Universal transitioned to the next generation of adhesive, RelyX Ultimate also transitioned to a new universal solution – RelyX Universal Resin Cement.
RelyX Universal Resin Cement has really taken the word "Universal" to the next level. RelyX Ultimate always had to be used with Scotchbond Universal, whereas the new RelyX Universal can be used as a self-adhesive cement (used without Scotchbond Universal Plus) or as an adhesive cement when used with Scotchbond Universal Plus. This new universal cementation system can be used in the way that you want, with the indirect restoration that you want, irrespective of the crown or bridge material being used.
The main obvious feature of RelyX Universal Resin Cement is the much smaller syringe size and micro mixing tips. Clinicians said that plastic waste and cement waste in a mixing tip were big issues for them, so the new RelyX Universal syringe uses 50% less plastic than other cement systems and the new micro mixing tip helps to reduce cement waste by up to 80% compared to other conventional mixing tips.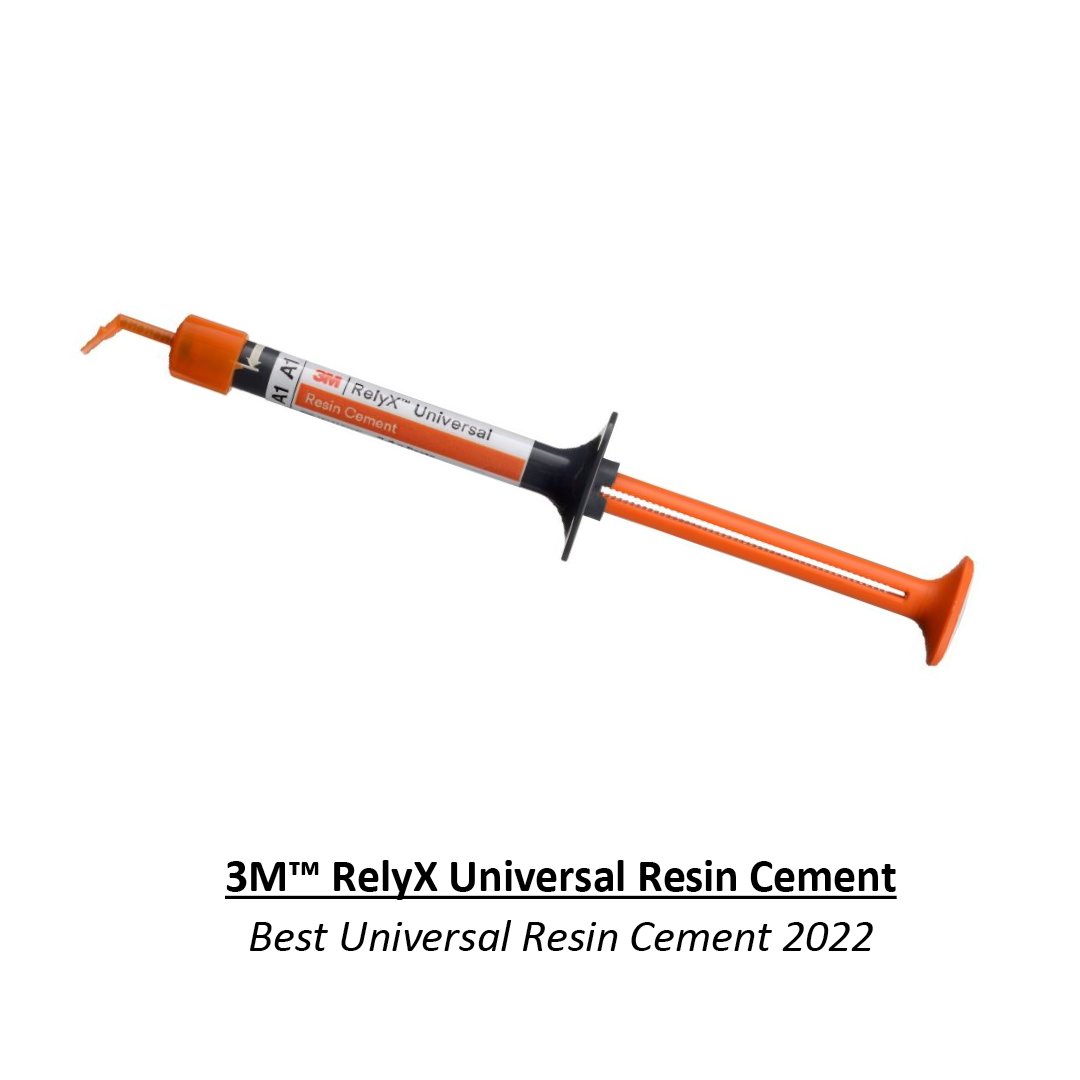 Of course, the new Scotchbond Universal Plus Adhesive can still do all the things that the old Scotchbond Universal was able to do such as be a desensitising agent; be a glaze for glass ionomer restorations; be a seal for cavities prior to amalgam placement; bond pit and fissure sealants and much more. But really, the number one use for an adhesive is to enable us to stick composite to teeth. So, as well as having a unique universal solution to all indirect work, it now offers a universal solution for all direct restorations.
Filtek Universal Restorative offers an innovative stress relieving chemistry and a unique shade match technology allowing just 8 universal shades to cover the whole of the classic Vita shade guide. This simplified approach to the direct workflow means that inventory can be kept to a minimum and shade selection is easy. These newer materials which offer a good chameleon effect are great if the tooth structure we are working on is tooth coloured, but how often does this perfect scenario occur. Stained dentine, amalgam tattooing, and remnants of metal work and posts often need to be disguised before the final layers of composite can be applied. Filtek Universal Restorative comes with a unique pink opaquer that with just a one-millimetre application (with 1mm of a universal shade on top) can mask out most dark areas and stains.
The other area of shade matching which can often be tricky is trying to accurately shade match a bleached or white dentition. Many composites out there don't match the very white shades on some shade guides and therefore a visual match against the teeth is required before the correct shade of composite can be chosen. With Filtek Universal Restorative we have just the one white shade (Extra White – XW) which has been shown to accurately match any white situation.
With Scotchbond Universal Plus, RelyX Universal and Filtek Universal you have practically all your dentistry needs covered. A truly unique and universal trio!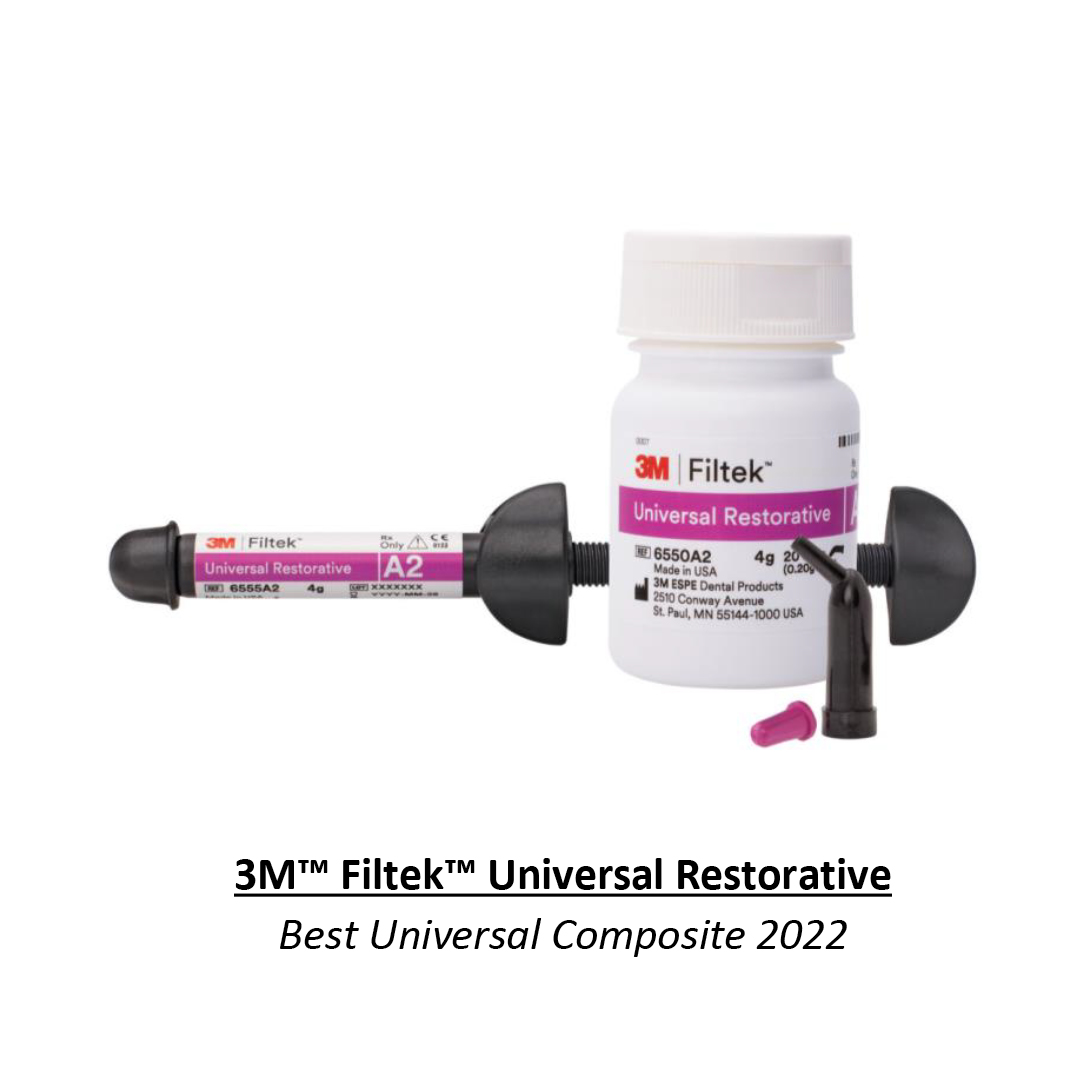 3M, Filtek, RelyX and Scotchbond are all trademarks of 3M Company. © 2022. Claims available on 3M.co.uk/dental
Shop 3M Now