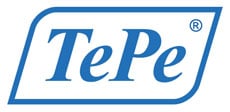 From the TePe Original Interdental Brush and the ergonomically designed Angled Interdental Brush, to the TePe EasyPick™ and sustainably produced Good Toothbrushes TePe offers a variety of products designed to keep your patient's mouth and teeth healthy.
TePe's oral care range is appreciated and endorsed by dental professionals for its high quality, clinical application, and because it fulfils the strict criteria for safe and hygienic oral use.
All TePe products are made in Sweden, the TePe Original Interdental Brush is the number 1 selling interdental brush in the UK and is recommended by 94% of dental hygienists*.
* Source: A survey of 201 dental hygienists in the UK, Ipsos, (2019)