How does your Glass Ionomer handle?
It's fair to say materials that stick to instruments make handling and placement difficult. No patient enjoys a restorative procedure, so as a dental professional we really want these to be as quick as possible. Fewer steps, ease of use, and a material that sticks where we need it to are key elements of making the restorative procedure as quick as possible. Products that save time mean that we can see more patients in a day. Glass Ionomers fit nicely into this space as an adhesive isn't required, and the ability to bulk place to any depth due to the chemical cure makes these ideal time saving products.
Did you know that Ketac Universal Glass Ionomer restorative from 3M does not require the use of a glaze or conditioner? Did you also know that Ketac Universal is engineered to be non-sticky? This could save you lots of time.
Ketac Universal Glass Ionomer restorative is the latest development in a long history of proven glass ionomer technology. It's designed to save steps for a faster procedure, so it's ideal for treating paediatric, geriatric, and teenage patients—who can be the most caries-prone and the most restless. It can be used without preconditioning the cavity and without a coating, so it eliminates steps—yet still delivers compressive strength and surface hardness that are higher than several clinically proven glass ionomers which require a coating.
Another clear advantage of Ketac Universal is that it sticks to the cavity while you are filling it but does not stick to the dental instrument thus making it much easier to place and sculpt. To prove this, a laboratory test was performed where a metal ball plunger was dipped into the mixed paste of each restorative material and withdrawn immediately. Test photos prove that Ketac Universal restorative did not stick to the metal ball, while other glass ionomer materials tested displayed a clear 'pull back' (or stickiness) when the ball plunger was lifted.
Don't believe us? Try it for yourself and see why more and more clinicians are switching to Ketac Universal Glass Ionomer Restorative from 3M.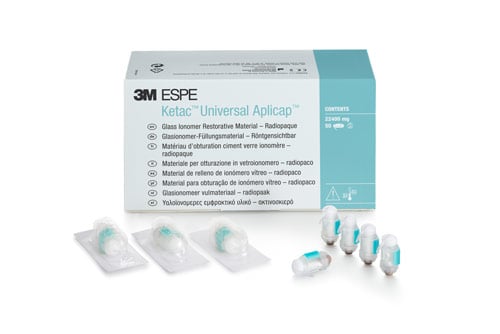 3M, Ketac and Aplicap are all trademarks of 3M Company © 2023. All rights reserved. Claims available on request via 3M.co.uk/dental.