Septodont BioRoot RCS - Much more than just a superior root canal sealant.
A new era of root canal sealing is born
The breakthrough properties of Active Biosilicate Technology allow Septodont's BioRoot™ RCS to bring you a tight seal without using warm GP techniques.
Based on the same technology as Biodentine™, BioRoot™ RCS changes the way root canal treatments are done – there's no need to use a warm technique anymore which reduces the need for additional equipment and complex techniques as well as the time taken for the procedure.
4 Innovative Benefits for Successful Obturations
1. Superior Seal
BioRoot™ RCS gives a tight interface with outstanding adhesion to dentine and gutta-percha points; it has high microleakage resistance and there's less chance of voids.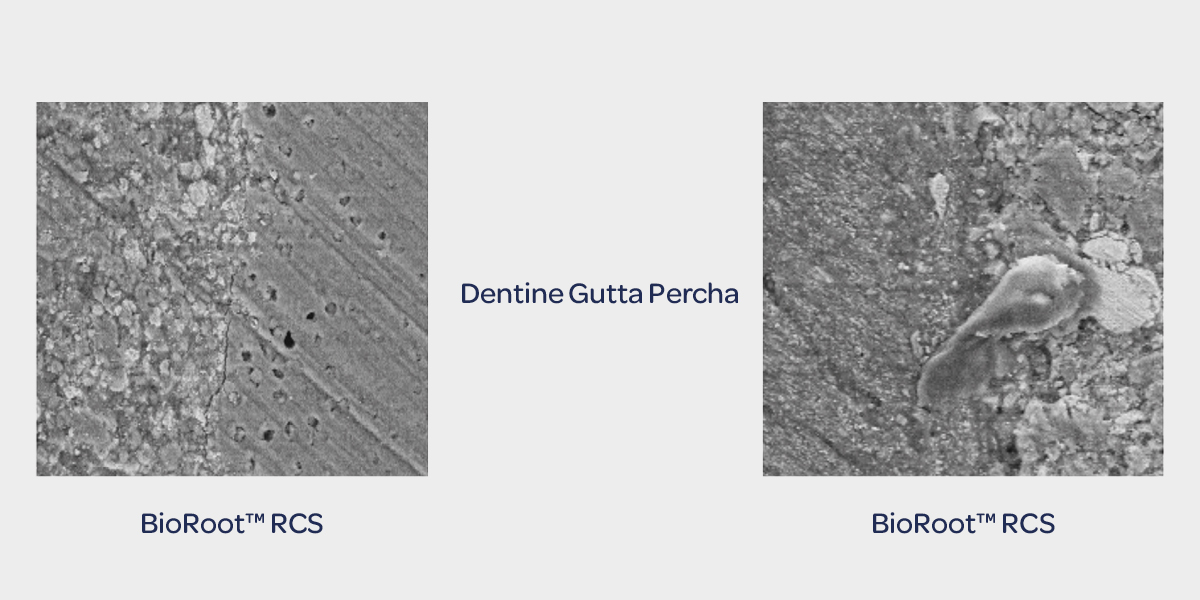 Tight dentine/BioRoot™ RCS/Gutta-Percha interface
Source: Internal Scientific file
The crystallization of BioRoot™ RCS gives a 3 dimensional seal and gives dentine structure mineralisation through hydroxy-apatite formation. It also has better early microleakage resistance than when using a warm technique
2. Antimicrobial Properties
BioRoot™ RCS creates a favourable alkaline environment and the release of calcium hydroxide allows for an increase of pH>11which prevents bacterial growth leading to clinical failures.
pH Evolution (set material)

Comparative pH evolution of 3 root canal sealers: BioRoot™ RCS, AH Plus Jet (Epoxy resin ma trix) and Pulp Canal Sealer (Zinc Oxide Eugenol)
Source: Internal Scientific file
3. Peri-apical Healing
BioRoot™ RCS maximises chances of success due to its high purity mineral formulation and it stimulates bone regeneration and promotes periodontal healing.
4. Easy obturations & Follow-up
BioRoot™ RCS allows the practitioner to do a fast placement of the sealer, easily coating the root canal walls and permitting rapid insertion of the gutta-percha points. It has a working time of over 10 minutes and a setting time of less than 4 hours.
BioRoot™ RCS has 5 mm Al radiopacity for easy follow-up on the radiograph and retreatment is simple: use in combination with Gutta-Percha points.
Clinical Implication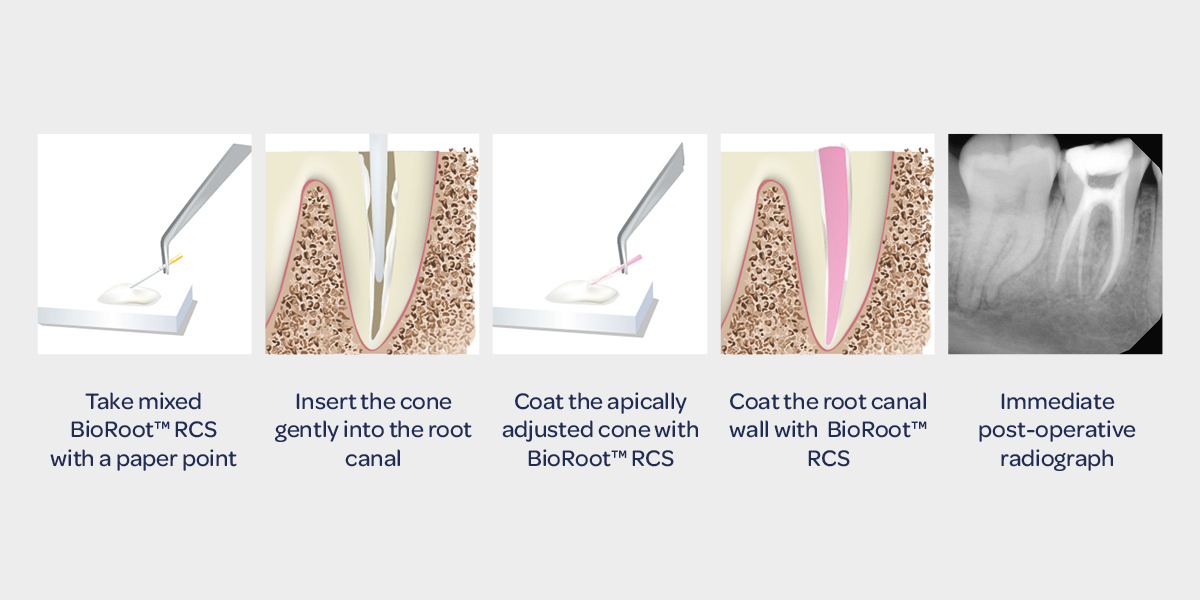 Economical
BioRoot™ RCS comes in a 35-application pack and there's no need for additional material or specific coated cones.