DD DOMINATES THE 2022 AWARDS SEASON
So DD swept up at the 'Dental Industry' awards on 1st December 2022, collecting an impressive four awards as well as one highly commended. The result was an accumulation of hard work, innovative thinking and a focus on placing our customers at the heart of everything we do. DD supersedes its competitors with its vast range of products and offerings, comprehensive engineering, and equipment servicing, as well as an established aesthetics division.
We were awarded:
Outstanding Business of the Year

Business Leader of the Year - CEO Paul Adams

Customer Service Provider of the Year

Best in Servicing and Repair

Contact Centre – Highly Commended for Best Team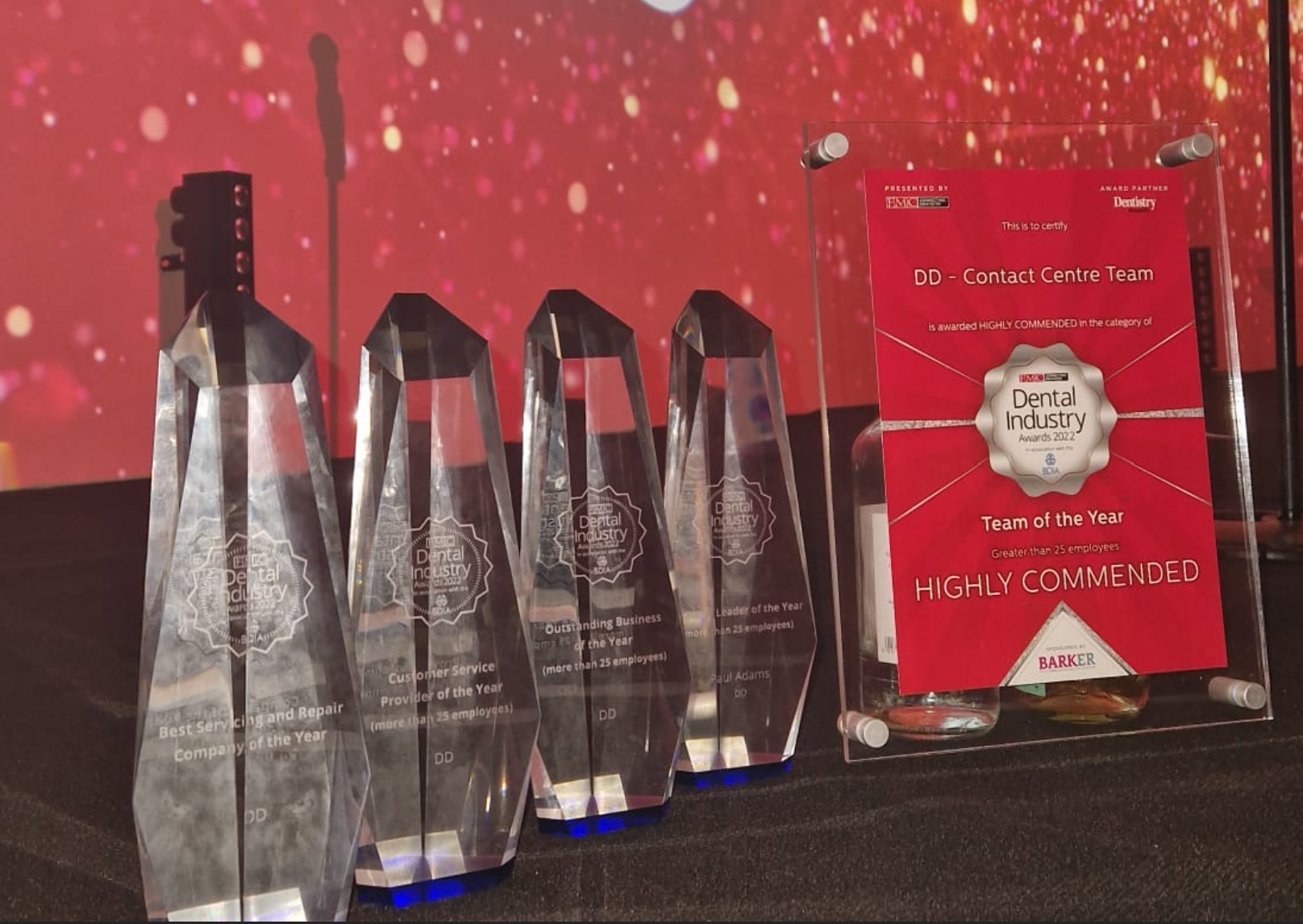 Find out more…
DD Hits the Top - Outstanding Business of the Year
Formally known as Dental Directory, DD was sold by IDH in 2022, the business is now independent of any dental provider and is owned by leading private investment firm, Sun European Partners LLP.
With more than fifty years' experience, supplying over 12,000 dental practices and 6,000 medical beauty clinics with an extensive range of over 30,000 dental, medical products, supplies and services. The company covers everything required to run a successful practice including training, compliance, equipment servicing and maintenance.
DD provides unrivalled geographical coverage of the UK and Ireland, with locations in Essex, Blackpool, Crumlin and Stirling. Through its online presence, customers can create an account in minutes with the site being a one stop shop for all requirements; customers can also speak to highly skilled agents via Live Chat.
DD is committed to promoting corporate social responsibility and has a number of live initiatives to support the sustainability agenda, such as reducing packaging waste through the UnoDent Green, realigning its car fleet to electric and is on track to achieve a Planet Mark Net Zero certification.
DDs dynamic CEO Paul Adams wins Business Leader of the Year
Paul joined DD as CEO in 2018, with extensive international experience in a range of sectors; as well as being a published author, his book "The Little Black Book of Change" which was revered and distributed amongst executives at PepsiCo.
Paul leads from the front and his focus on exemplary customer service flows through the whole organisation. Through his leadership at DD, the culture of the business has shifted dramatically, and this can be seen through not only the profitability of the company, but within the culture of DD and its fantastic staff.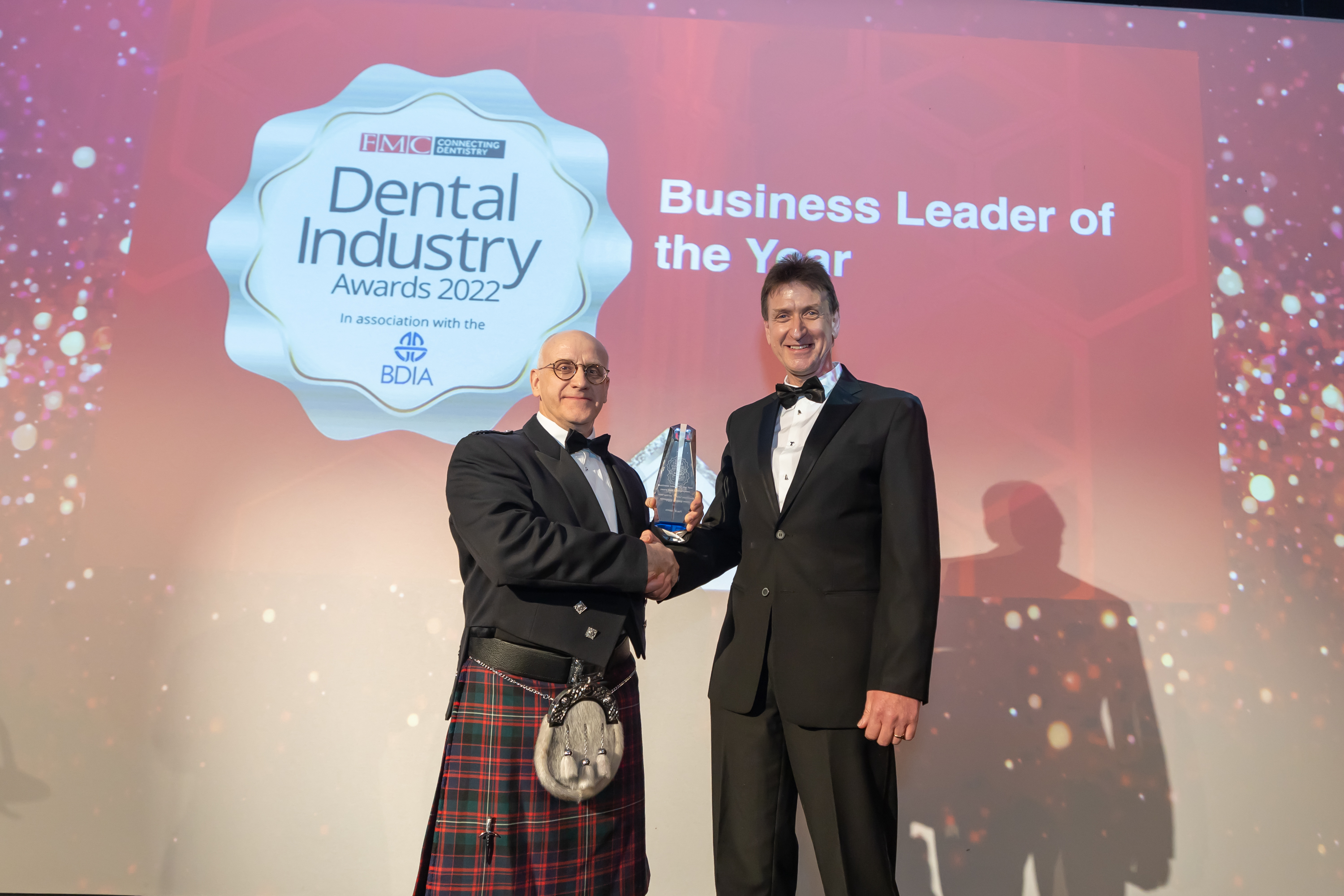 DD, the Number One Choice!
The DD mantra is to get it right, first time, every time. DD customer service agents are responsible for handling calls from dental professionals; they understand that client time is precious and look to provide solutions efficiently and effectively, with products being delivered next day.
During the Covid-19 Pandemic, DD kept its doors open and pivoted to support both existing and new customers doing all it could to support organisations such as Ambulance, Police, and other key workers with essentials such as PPE. The fantastic customer contact centre took thousands of calls a day at its peak and was able to aid and reassure concerned key workers. As a result, DD is now the sole supplier for some of the largest dental corporates in the UK.
DD offers World Class Servicing and Repair
DD has the UK's largest growing network of multi-skilled engineers and continues to invest heavily into the training and development of each through our training academies in Scotland, Blackpool and Witham. The team is three times in size as many of its closest competitors. With engineers being trained across all disciplines from dental chair repairs, autoclave service & validation and X-ray equipment testing. DD's engineers have offer impressive call out response times and first-time fix rate of around 90%. With a triage centre of over 50 dedicated staff, dental practices can rely on DD as a single point of contact for all their engineering requirements, with new products, backed by clinical expertise constantly being developed.
For repairs of small equipment and handpieces DD offers a rapid turnaround service on a 'return to workshop' basis. All trained, accredited and backed by manufacturers, their team of technicians can quote same day of receipt and return next day, fully repaired to your practice.
A Special shout out goes to DD's contact centre - who were awarded 'highly commended' for Best Team!
If you are interested in joining the DD team find our more here DD Careers (ddgroup.com)